Some of my readers have already seen the following progress photos but for those who are reading my blog and don't know me from my scrappy forum, I wanted to also share with you.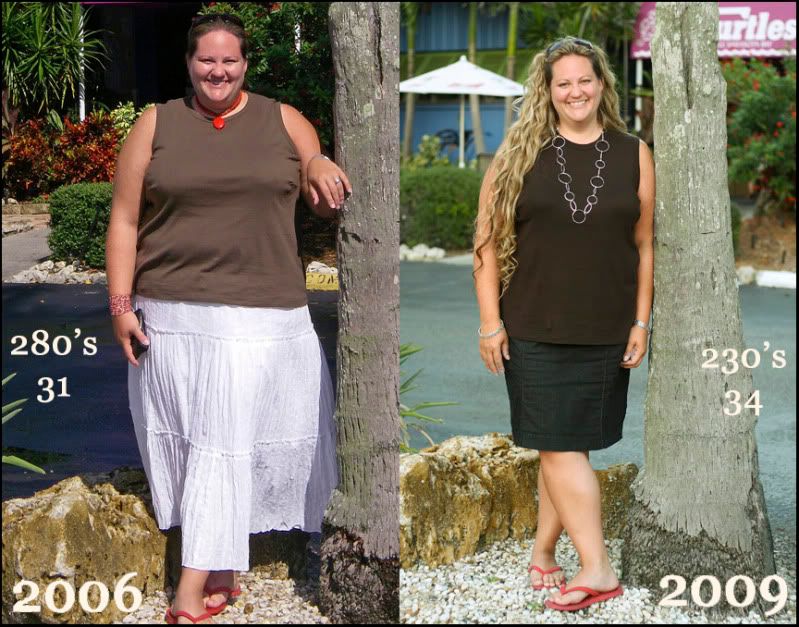 So, here's the story behind these photos...
The 2006 photo was taken while on vacation. Hubby took this in front of Turtles on Little Sarasota Bay restaurant while I leaned against a palm tree.
I can remember feeling good about myself that day and actually thinking I looked pretty. Looking back now, I think vacation bliss was clouding my reality, lol. Gosh.

FYI - I weighed the same weight weight for the last 3 years, so that's why I'm using this photo as a comparable/now photo. When I started this journey in July, I still wore these clothes and was in the 280's...




The 2009 photo was taken this month while also on vacation in Siesta Key, FL (hubby and I's favorite place to vacation!). At that point, I had lost 43 pounds since July 13th (when I started to change my life!). I was having trouble seeing the difference in the mirror even though I had many people telling me they couldn't believe how different I looked (not to mention my measurements were drastically changing, the scale was definitely telling me a different story and my clothes were no longer fitting). I think that alone goes to show how warped our image of ourselves can be after years and years of seeing the same thing looking back at you not to mention the mental torment you put yourself through about your weight. Anyway, the talk of going back to Turtle restaurant and retaking the photo, 3 years later and 43 lbs lighter came to light. So, that's what we did. :)
I have to say that this was really the first time since July that I saw a BIG difference (no pun intended!). I can remember after hubby took the photo, I said "let me see how it looks"...so I looked at the camera and I couldn't believe that was me. It didn't even look like who I see everyday in the mirror. That night we went to a little place that had wi-fi and I took my photos off my camera. I still couldn't believe it was me that I was looking at. I didn't know who she was or where she came from all of the sudden.
When we came home after vacation, I decided to dig up that old 2006 photo on my external hard drive. I butted them up beside each other in Photoshop Elements and it honestly blew my mind. Wow.
This
was me...and
that
used to be me. I definitely saw the difference and what everyone else was talking to me about...finally. I also knew I NEVER wanted to go back to where I was. EVER.
I started this journey on July 13th this summer. I weighed 282 pounds. I'm averaging a 3lb loss per week. Still going strong and on my way to a short-term goal of losing 80 pounds by Christmas/end of December. I think I can do it! NO. I know I can do it and I will. :)